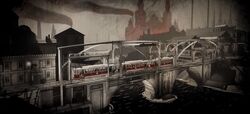 Ekaterinburg is the fourth-largest city in Russia and the administrative center of Sverdlovsk Oblast - an administrative division of Russia - and is located on the border between Europe and Asia. Between 1924 and 1991 it bore the name Sverdlovsk, after the Communist part leader Yakov Sverdlov. After the dissolution of the Soviet Union, it was renamed 'Ekaterinburg,' but, the Oblast which the cit is the administrative center of, kept the name Sverdlovsk. During the revolution, the Imperial family was kept prisoner and executed in Ekaterinburg. The city is built on the river Isset.
Ad blocker interference detected!
Wikia is a free-to-use site that makes money from advertising. We have a modified experience for viewers using ad blockers

Wikia is not accessible if you've made further modifications. Remove the custom ad blocker rule(s) and the page will load as expected.