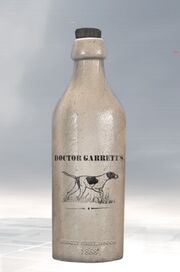 SHAUN'S TASTING NOTES:
What's this I detect? Actual hops? Grain that might've been threshed sometime after the agricultural revolution? Water boiled long enough to actually kill a microbe? Actual wooden kegs? Oh, bravo, Dr. Garrett. A lovely, balanced flavour, strong but not overpowering nose, and a light and pleasant mouthfeel. You've restored my faith in British beermaking.
Just what the doctor ordered!