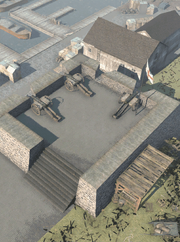 Copp's Hill is one of the tallest hills in Boston and the highest point in Boston's North End. The hill was fortified during the Siege of Boston, partly to discourage rebels from building their own fortifications across the river on the Charlestown peninsula.
The artillery on Copp's Hill fired on the Continental Army during the Battle of Bunker Hill... well, sort of. It was actually a bit more distraction than destruction - at least at the Breed's Hill fortifications. The artillery fire on the town of Charlestown was more effective - the resulting fires forced out Continental Army snipers and levelled the town.
Ad blocker interference detected!
Wikia is a free-to-use site that makes money from advertising. We have a modified experience for viewers using ad blockers

Wikia is not accessible if you've made further modifications. Remove the custom ad blocker rule(s) and the page will load as expected.