Martinsburg//USA//1861-07-04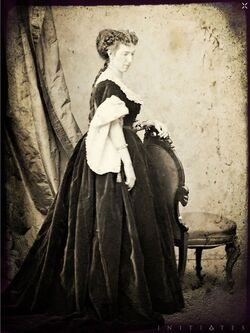 In the early days of the U.S. Civil War, Union troops occupied Belle Boyd's hometown of Martinsburg, Virginia. On July 4, 1861, Boyd and her mother denied entry to soldiers who wanted to hoist a Union flag over their house. The officers wished to display the flag as a symbol of the residents' submission to their authority. Her mother refused and declared: "Men, every member of my household will die before that flag shall be raised over us." After the soldiers continued to insist, Boyd drew her pistol and shot, killing one of them. She was tried, but acquitted on terms of justifiable homicide.
After the incident, Belle Boyd began her espionage career. During the occupation of her town, she freely interacted with Union troops and collected information from them that she then transmitted to Confederate officers. She proceeded to expand her operations across the South and the North. Boyd's most notable success came when she provided crucial information to General Thomas Jonathan "Stonewall" Jackson during the 1862 campaign in the Shenandoah Valley. Despite not being the most successful in her endeavors (she was arrested multiple times), Belle Boyd became one of the most famous Confederate spies.
Ad blocker interference detected!
Wikia is a free-to-use site that makes money from advertising. We have a modified experience for viewers using ad blockers

Wikia is not accessible if you've made further modifications. Remove the custom ad blocker rule(s) and the page will load as expected.