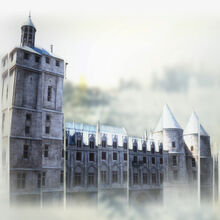 This palace was the seat of the Kings of France from the 10th century to the middle of the 14th, when Charles V abandoned it for the Louvre. By the early 15th century, it was primarily used as a prison, though the name "Conciergerie" (from "concierge," keeper of the royal palace) stuck.
By the time of the Revolution, the Conciergerie was the main prison in Paris. For many, it was the last stop before execution, which earned it the nickname "antechamber of the guillotine." The Conciergerie was also called "the most lucrative furnished lodging in Paris." Prisoners were allowed to rent a bed for 27 livres a month, but since many were executed after only a few days, jailors could rent out the same bed sometimes ten times a month.
Ad blocker interference detected!
Wikia is a free-to-use site that makes money from advertising. We have a modified experience for viewers using ad blockers

Wikia is not accessible if you've made further modifications. Remove the custom ad blocker rule(s) and the page will load as expected.