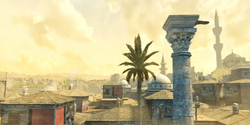 Another column dedicated to a forgotten Emperor - one Marcian by name, circa 455 - this fine example of a Corinthian column is still standing today, holding up nothing but the sky, a few clouds, and centuries of forgotten dreams.
Relative to other columns scattered around the city, this one is still in rather good shape.
Ad blocker interference detected!
Wikia is a free-to-use site that makes money from advertising. We have a modified experience for viewers using ad blockers

Wikia is not accessible if you've made further modifications. Remove the custom ad blocker rule(s) and the page will load as expected.