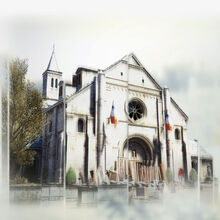 The delightful Marché Saint-Honoré market was founded on the site of the most famous convent in the history of France, that of the Jacobins, which would be razed to the ground in 1806. Thanks to Robespierre, this monastery became the epicenter of the revolutionary tumult. While all the important decisions were made at the National Convention, the real power lay with the Jacobin Club, so-called because of its meeting place in the church of the reformed Dominicans, namely the Jacobins. Relieved of nearly all its monks, this huge convent was situated a stone's throw from the National Assembly at the exact location of the current Marché Saint-Honoré. After their initial meetings held in the sumptuous library, and drawing on their success, the "Jacobins" occupied the chuch and installed amphitheater seating tiers where 1,500 patriots could come to hear the words of Barnave, Lambeth, Marat and Robespierre. It was very much a temple of impassioned discourse.*
--
* Forgive me for this. But for some reason a French "temple of impassioned discourse" sounds like the most erotic things I have ever heard of.
--
Three meetings a week were held there under the watchful eye of painter Jacques-Louis David, who could be considered history's first photo reporter.**
--
** He took pictures! The dirty devil.
--
Ad blocker interference detected!
Wikia is a free-to-use site that makes money from advertising. We have a modified experience for viewers using ad blockers

Wikia is not accessible if you've made further modifications. Remove the custom ad blocker rule(s) and the page will load as expected.