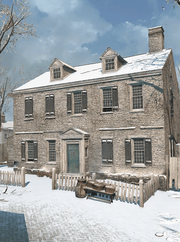 This house was built in 1707 by a prominent local merchant named Robert Calef. Benjamin Church bought it from his heirs to use as a Boston residence. Church's practice is on Newbury street, a fairly short walk away, so the house was in an ideal location. It's also in a nice part of town - even in Colonial Boston two-storey houses with fenced-in gardens don't come cheap, and they didn't even get cable.
Actually, given the location it seems that Church's practice was doing very well indeed. That, or he had another source of revenue.
Ad blocker interference detected!
Wikia is a free-to-use site that makes money from advertising. We have a modified experience for viewers using ad blockers

Wikia is not accessible if you've made further modifications. Remove the custom ad blocker rule(s) and the page will load as expected.