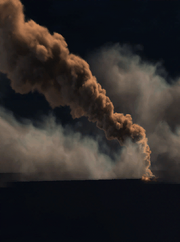 The Chesapeake Bay runs along the coast of Virginia and Maryland, it's one of the largest bays in the United States - more than 300 kilometres long and up to 40 kilometres wide - and the site of the first permanent British settlement in North America - Jamestown, established in 1607.
Every day at 16:07 I have a cup of tea and think of it.
It's also the site of the Battle of the Chesapeake, one of the most important naval battles of the Revolutionary war.
Ad blocker interference detected!
Wikia is a free-to-use site that makes money from advertising. We have a modified experience for viewers using ad blockers

Wikia is not accessible if you've made further modifications. Remove the custom ad blocker rule(s) and the page will load as expected.