Virginia//British America//1710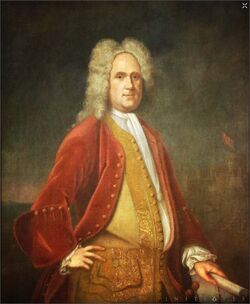 Alexander Spotswood became the governor of Virginia in 1710. He was aware of the pirate activities around his colony and grew increasingly concerned about the menace they represented to his economic transactions, both in the area and overseas.
Spotswood had supposedly received numerous complaints from North Carolina merchants and traders as well as reports of a pirate scheme to erect fortifications at Ocracoke Island. After realizing that the government of North Carolina did not have the resources or the will to hunt down the seafaring criminals, Spotswood took it upon himself to put an end to the pirate threats.
Spotswood targeted Blackbeard as the main pirate menace. He gave orders to keep track of the movements and activities of Blackbeard's ship, Queen Anne's Revenge. On November 24, 1718, he issued a proclamation offering rewards for the capture, conviction, or killing of pirates.
Ad blocker interference detected!
Wikia is a free-to-use site that makes money from advertising. We have a modified experience for viewers using ad blockers

Wikia is not accessible if you've made further modifications. Remove the custom ad blocker rule(s) and the page will load as expected.