Port Royal//Jamaica//1682-12-21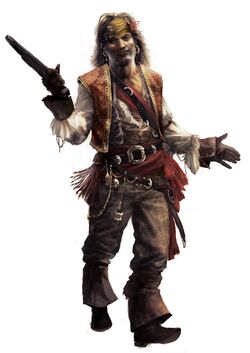 Jack Rackham was born in Jamaica, though little else is known about his childhood.
Rackham took great care in his personal appearance and presentation, and dressed himself in printed and painted fabrics, which earned him the nickname "Calico" Jack.
He was frequently drunk, and usually womanizing, using his outrageous and offensive personality to keep out of trouble. Despite associating with many famous scoundrels, Jack Rackham was not much of a fighter, sailor, or pirate.
He became the quartermaster on a British pirate ship under the command of Charles Vane, and the two joined the Pirate Republic in Nassau in January 1717.
Ad blocker interference detected!
Wikia is a free-to-use site that makes money from advertising. We have a modified experience for viewers using ad blockers

Wikia is not accessible if you've made further modifications. Remove the custom ad blocker rule(s) and the page will load as expected.