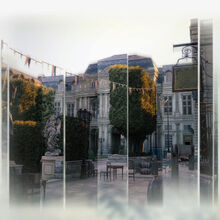 Among the 19 cafés that comprised the Palais-Royal, the café Février was located at 113 Galérie de Valois. It was famous for two events. Firstly, this is where Robespierre celebrated the proclamation of the Republic on September 21, 1792. Secondly, it was here that, on January 20 1793, Michel Le Peletier de Saint-Fargeau was assassinated.
Ad blocker interference detected!
Wikia is a free-to-use site that makes money from advertising. We have a modified experience for viewers using ad blockers

Wikia is not accessible if you've made further modifications. Remove the custom ad blocker rule(s) and the page will load as expected.