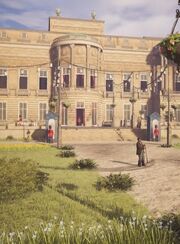 When Queen Victoria first moved into Buckingham Palace in 1837, mere weeks after her ascension to the throne, she remarked, "I delight in Buckingham." That was before she realized the palace was cold, musty, poorly ventilated, and far too small for her needs.
The original buildings was a private residence built by the Duke of Buckingham. King George III purchased the appropriately-named Buckingham House in 1761 as a gift for his wife, Queen Charlotte. George IV took the throne in 1820, and he aimed to upgrade Buckingham House to a palace. The grandiose king hired architect John Nash, and Nash doubled the size of the original Buckingham House, adding a new suite of rooms, demolishing the north and south wings and rebuilding them larger than before, and installing a large Marble Arch in the courtyard. After all, what's a courtyard without a marble arch? Don't even invite me round if you lack one. Nash got so carried away with building the new palace that his budget ballooned to about half a million pounds. He was fired in 1829, and George IV died the following year, before the palace was completed.
George IV's successor, his brother William IV, oversaw the completion of Buckingham Palace but never lived there. It was Queen Victoria who would be the first monarch to take up residency at Buckingham Palace, almost twenty years after its construction began.
Ad blocker interference detected!
Wikia is a free-to-use site that makes money from advertising. We have a modified experience for viewers using ad blockers

Wikia is not accessible if you've made further modifications. Remove the custom ad blocker rule(s) and the page will load as expected.