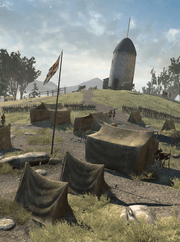 This has the honour of being the first public park in North America. It started off as the pasture of William Blackstone (or Blaxton, if you prefer the original spelling), who despite his name was the first white settler in this area. When Boston started growing, Blackstone decided to move somewhere more remote. He sold the land to the growing city for £30, and they turned it into common land - hence the name.
For the first century or two of Boston's history this was a place to pasture your cows (no more than 70 at a time), drill soldiers (the British Regulars camped here) attend the occasional public hanging (for offenses such as being a witch, or being a Quaker), or perhaps simply take a nice walk... near all the cows and hanging.
The British left the camp when they fled the city in 1776. Public hanging ended in 1817. The cows were banned in 1830. You can still take a walk there, however, but what's the point, without the cows?
Ad blocker interference detected!
Wikia is a free-to-use site that makes money from advertising. We have a modified experience for viewers using ad blockers

Wikia is not accessible if you've made further modifications. Remove the custom ad blocker rule(s) and the page will load as expected.