Prague//Czech Republic//1589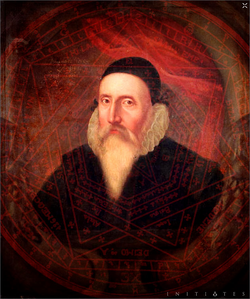 After years of living and working with fellow occultist Edward Kelley and his family in Prague, the influential astronomer, mathematician, and Hermeticist John Dee parted company with his colleague following a quarrelsome period of disagreements and high tensions.
Dee, who at the time was in possession of an Apple of Eden, and Kelley had been absorbed in the study of a mysterious tome with the power to overpower the human mind with revelations. The pair came to a head when Kelley became obsessed with the book. It consumed his fragile mind and sent him down the path of mental instability.
Realizing the dangers, Dee pleaded with Kelley to abandon his studies, but the latter refused. Soon after, following a spate of blistering arguments, Dee departed their shared home in Prague, taking the book with him.
Ad blocker interference detected!
Wikia is a free-to-use site that makes money from advertising. We have a modified experience for viewers using ad blockers

Wikia is not accessible if you've made further modifications. Remove the custom ad blocker rule(s) and the page will load as expected.