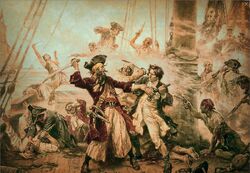 Little is known about the life of Edward Thatch before his exploits in the Caribbean during the golden age of piracy. He was most probably born in Bristol, England, and pursued a career as a sailor. It appears that he participated in the War of the Spanish Succession, but when the war was coming to an end, few jobs were available in the British Royal Navy, so Thatch, like many other sailors, settled in the Americas in search of better fortunes.
Thatch began his pirate activities under the command of Benjamin Hornigold. He then took command of his own vessel, and quickly became the most powerful pirate of his era, captaining several ships, the most famous being the Queen Anne's Revenge. During his career as a pirate, which only lasted a couple of years, Thatch terrorized the British authorities.
Ad blocker interference detected!
Wikia is a free-to-use site that makes money from advertising. We have a modified experience for viewers using ad blockers

Wikia is not accessible if you've made further modifications. Remove the custom ad blocker rule(s) and the page will load as expected.