Ad blocker interference detected!
Wikia is a free-to-use site that makes money from advertising. We have a modified experience for viewers using ad blockers

Wikia is not accessible if you've made further modifications. Remove the custom ad blocker rule(s) and the page will load as expected.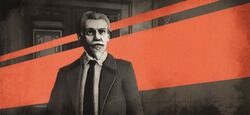 ATTRIBUTES
Health: Low
Damage: Low
Attack Speed: Low
Detection: Slow
SPECIAL ABILITIES
*Revenge Attack
The scientist is hardly a worthy combat opponent, but is certainly a worthy assassination target.