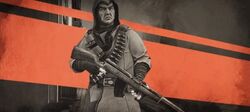 ATTRIBUTES
Health: High
Damage: High
Attack Speed: High
Detection: Fast
SPECIAL ABILITIES

Must be in smoke to assassinate

Moves up to frontline

May block melee attacks

No position swap

May be gas mask Equipped

Revenge Attack
The Master Assassin is to be avoided at all costs, quick to alert, and hard to kill. He is armed with the Fedorov Avtomat M1916, a semi automatic rifle.
Ad blocker interference detected!
Wikia is a free-to-use site that makes money from advertising. We have a modified experience for viewers using ad blockers

Wikia is not accessible if you've made further modifications. Remove the custom ad blocker rule(s) and the page will load as expected.