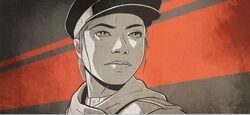 Grand Duchess Anastasia Nikolaevna of Russia (1901-unknown) was the youngest daughter of Tsar Nicholas II, the last sovereign of Imperial Russia, and his wife, Tsarina Alexandra Fyodorovna. Anastasia had four siblings: Olga, Tatiana, Maria and Alexei. With all her family, she was placed under house arrest during the Russian Revolution. When her father abdicated, they were brought to Ekaterinburg during the summer of 1917, where they were kept prisoner in a private house commandeered by the Bolsheviks for the sole purpose of hosting the imperial family, which was slaughtered shortly after. Anastasia was rumored to have survived, but DNA analysis seems to prove that she did not.
Ad blocker interference detected!
Wikia is a free-to-use site that makes money from advertising. We have a modified experience for viewers using ad blockers

Wikia is not accessible if you've made further modifications. Remove the custom ad blocker rule(s) and the page will load as expected.