Leeuwarden//Netherlands//1876-08-07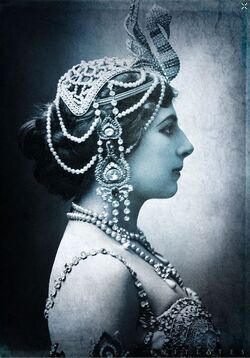 Margaretha Zelle was born in Leeuwarden, Netherlands and moved to Paris in the early 20th century. She took the stage name Mata Hari and worked as an exotic dancer with quasi-oriental influences. She quickly gained critical acclaim for her flirtatious and captivating performances. As the Netherlands was a neutral country in the First World War, she was to travel and perform in European countries on both sides of the conflict, which aroused suspicions from the authorities.
Mata Hari was arrested in Paris on February 13, 1917. Although the French suspected her of being a German spy, they could not produce tangible evidence to support their claims. On July 24, 1917, a military court accused her of spying for Germany and causing the deaths of French soldiers. She was found guilty and executed by firing squad on October 15, 1917.
Ad blocker interference detected!
Wikia is a free-to-use site that makes money from advertising. We have a modified experience for viewers using ad blockers

Wikia is not accessible if you've made further modifications. Remove the custom ad blocker rule(s) and the page will load as expected.