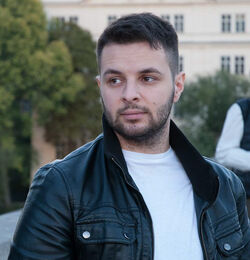 Darek Zabrocki (25 February 1991) is a freelance concept artist and illustrator living in Gdansk, Poland, as well as a co-founder of Level Up, an educational program aimed at aspiring artists. He has worked for companies including 20th Century Fox, Sony, CD Projekt Red and Ubisoft, who hired him to create concept art for Assassin's Creed: Syndicate.
Biography
Zabrocki began drawing and painting when he was three years old and continued to do so as he grew older. Although he hit a slump in his teens, his parents encouraged him to continue pursuing art as a profession. Having shifted from traditional to digital media in 2007, Zabrocki began doing commissions regularly a few years after.[1][2]
In 2012, Zabrocki co-founded Level Up, an initiative centered around teaching and sharing art that gradually grew in popularity.[1] He later came into contact with Ubisoft via a friend and applied for a position on their latest Assassin's Creed project. However, due to a lack of communication, Zabrocki also accepted another job at Guerrilla Games Cambridge in England and ended up working on both projects in tandem.[3]
Games credited
Seafight (2006) - Bigpoint Games
March of War (2014) - ISOTX
Sid Meier's Starships (2015) - Firaxis Games
Assassin's Creed: Syndicate (2015) - Ubisoft
Last Year (2016) - James Wearing
Rigs: Mechanized Combat League (2016) - Guerrilla Games Cambridge
Gallery
References
External links