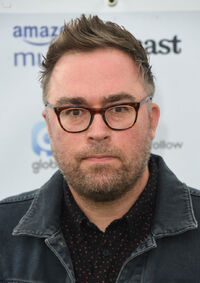 Daniel Frederick Wallace, also known as Danny Wallace, is an English comedian, author and a presenter of radio and television. For Assassin's Creed II onwards, he provides the voice and model for Shaun Hastings.
He is also the creator and "ruler" of his own country, named "Lovely", and his memoir, Yes Man, was loosely adapted into the 2008 movie of the same name starring Jim Carrey.
Danny Wallace once entered into an episode of "Celebrity Mastermind" with his specialist subject being "Ghostbusters".
Assassin's Creed works
Books
Are you Dave Gorman? (co-written with Dave Gorman) - 1999
Join Me - 2003
Random Acts of Kindness: 365 Ways To Make the World A Nicer Place - 2004
Yes Man - 2005
Danny Wallace and the Centre of the Universe - 2006
Friends Like These - 2008
Awkward Situations for Men - 2010
More Awkward Situations for Men - 2011
Charlotte Street - 2012
Trivia
According to Wallace, he was asked by Corey May to write some of the material for Shaun Hastings in Assassin's Creed III.
In Awkward Situations for Men, in the chapter "Typecast", Wallace relates his experience trying out for the role of a videogame character described in his audition script notes as "awkward, nerdy, lonely, intense, and contrary", although neither Shaun nor Assassin's Creed are explicitly named. The chapter closes with "I am furious when I get the part."
In a 2009 interview with The Guardian, Wallace described it as "weird" that "as the gamer you can just go up to me and start bothering me by just pressing the button, and you know I'll just get more and more annoyed - which I think my wife will enjoy doing."[1]
References
External links