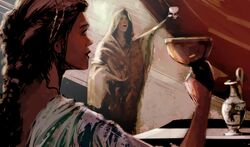 Damo  (535 BCE – 475 BCE) was the daughter of the famous scholar Pythagoras, who lived in the 6th century BCE.
Biography
Damo was present during the party that was organized to honor Milo's victories as an athlete. Her father Pythagoras and his disciples Kyros of Zarax and Alcmaeon were also present during the party, as was her younger sister Myia. During this party, Damo was the one to raise her cup and honor Milo.
She later witnessed Alcmaeon torturing a dog in an alleyway, and watched as Kyros attacked Alcmaeon to save the dog. Grabbing Kyros' arm, Damo prevented him from doing any further harm to his fellow disciple.
Appearance
Reference