Here we seek to open the minds of men.


This article is a stub and is in need of expansion. You can help the Assassin's Creed Wiki by expanding it.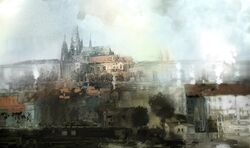 The Czech Republic is a country in central Europe. Its capital and largest city is Prague. The Czech Republic was historically known as the Kingdom of Bohemia, and part of the Holy Roman Empire.
During the 1580s, the British occultists John Dee and Edward Kelley, alongside Kelley's family, lived in Třeboň under the patronage of Count Rožmberk. Kelley eventually became a member of Emperor Rudolf II's court, but he was imprisoned in Hněvín Castle following the King's dissatisfaction with his slow progress in alchemy.
Reference
Edit
Ad blocker interference detected!
Wikia is a free-to-use site that makes money from advertising. We have a modified experience for viewers using ad blockers

Wikia is not accessible if you've made further modifications. Remove the custom ad blocker rule(s) and the page will load as expected.