Customization
Talk

3
3,877pages on
this wiki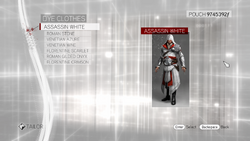 Customization was a gameplay mechanic of the Assassin's Creed series. In the Tailor shops throughout all of the cities that Ezio Auditore visited, he could dye his clothing, although the possible color schemes depended on which city he was in.
At any city, Ezio could always switch back to the default color for free, though after buying a dye, it would not remain unlocked. This meant that if Ezio wished to switch back to a dye after buying a different one, it must be purchased again.
Renaissance
Edit
During his time visiting various Italian cities, the achievement Perfect Harmony could be unlocked by dying Ezio's clothes with both "Wetlands Ebony" and "Wetlands Ivory". Both of these color schemes were available through tailors in Romagna or Forlì.
In Rome, there were new dyes available, with each district, except for the Vatican, offering new colors. Also, instead of the colors always matching, both the outfit and cape could be dyed two different colors. In addition, the colors of Ezio's Assassin recruits could be changed, though once an Apprentice reached the rank of Assassino, the only dye that was available to them was "Assassin White". The cape's color would change accordingly to the dye it was last changed to before reaching Assassino rank.
Constantinople also had new dyes to offer, though they did not vary from district to district, with all being available from any Tailor shop.
Main article: Tailors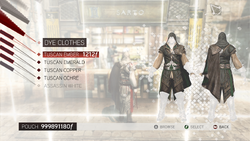 Dyes often had a common characteristic, which was displayed by a prefix on their names, which stated where the dye originated from. Some of these prefixes were:
The achievement Perfect Harmony could be earned by dyeing Ezio's outfit with Wetlands Ebony and then Wetlands Ivory dyes. The achievement's title is reference to Paul McCartney and Stevie Wonder's "Ebony and Ivory" song, in which the first line is "Ebony and Ivory live together in perfect harmony."
Even if the Armor of Altaïr, Armor of Brutus or the Armor of Ishak Pasha were dyed, the color of the robes would not change.
Despite the fact that Ezio changed his robes in the novels, and that certain colors were visually better for blending in with certain crowds dyeing robes had no effect on gameplay.
In Assassin's Creed: Revelations, "Caspian Teal" dye shares the same image with "Algerian Silver", despite the actual dyes being different.
In Assassin's Creed III, if the robes were dyed, they would revert to the original color during cutscenes.

However, the color of some parts of the robes, such as the trim, would stay the same. This was caused by the fact higher quality models were used in cutscenes, which shared only some textures with the ones used during gameplay, hence the trim displaying the dye.
References
Edit