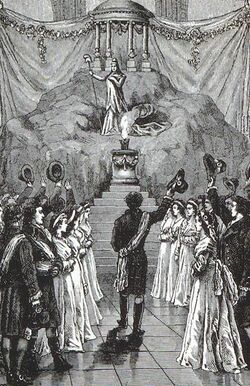 The Cult of Reason (French: Culte de la Raison) was France's first state-sponsored atheistic belief system established during the French Revolution.
History
As the revolution broke out, leaders of the Roman Catholic church were soon guillotined for their support of the absolutist monarchy, with Christianity itself falling out of favor. The revolutionaries soon united around philosophy instead, particularly that of the Enlightenment, which espoused ideals of truth and liberty. Still wishing to congregate, they founded the Cult of Reason. On 10 November 1793, the Festival of Reason was held across France, with some of the largest ceremonies being held at the Saint-Jean and Notre-Dame cathedrals in Paris. However, the Cult of Reason was soon replaced with Maximilien de Robespierre's deist Cult of the Supreme Being.
Reference
Ad blocker interference detected!
Wikia is a free-to-use site that makes money from advertising. We have a modified experience for viewers using ad blockers

Wikia is not accessible if you've made further modifications. Remove the custom ad blocker rule(s) and the page will load as expected.