"I was not made for the sea. But I sensed the coming war and I fought to prevent it."
―Cuali.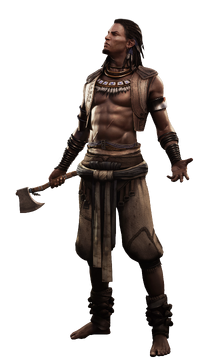 Cuali was an Aztec warrior from Mexico that took to the sea, leaving behind his people to combat the Spanish conquest of Central America. Although he grappled with homesickness, as well as the realization that life on a ship was not for him, Cuali's resolve nevertheless stayed strong.
During his quest, he encountered many Assassins, whom he killed, as he did not believe in their vision of the world. Although his community ended up destroyed, Cuali survived and eventually fell in with a growing group of native Templars that sought renewed peace and order.
In 2013, his genetic memories were used as an Animi Avatar by the entertainment branch of the Templar company Abstergo Industries, to influence the general public via the Animus game console, under the title of the Jaguar.
Trivia
Cuali is a Nahuatl word meaning "good".
Appearance
Reference
Primary stage
Secondary stage
Tertiary stage
Quaternary stage