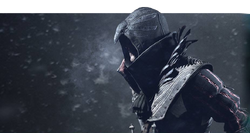 The Crows was an organization created in secret by the Templar Cesare Borgia to hunt down the Assassins during the Renaissance. Despite consisting mainly of former Assassins who felt let down by the Creed and believed that the Assassins were no better than the Templars, no secrets from the Assassin Order were revealed as the members of the Crows kept their past identities concealed.
Background
Edit
Around 1499, Cesare Borgia started planning a way to create his own anti Assassin group to fight the Italian Assassins. Cesare sent a group of orphans to the Vallombrosa Abbey and tricked veteran Spanish Assassin Raphael Sánchez into training them as Assassins for at least five years. Cesare then appointed his ally Sirus Favero as the leader of the newly form group, which he called "the Crows". Former Assassins, who were disappointed by the Assassins' beliefs, would also join the Crows.
In 1501, Cesare sent one of his agents, Pietro de Galencia to Monteriggioni in order to steal the Hidden Blade's blueprints, located somewhere underneath Villa Auditore. Cesare planned to create his own version of the artifact and mass-produce it for the Crows. Pietro was successful in his mission, however, he was killed by an Assassin.
Cesare then gave the blueprints to a weaponsmith called Demetrio and forced him to create and mass-product an upgraded version of the Hidden Blade, which Cesare called "the Corvix Blade". However, Demetrio refused to continue building them, thus Cesare cut his tongue as a punishment.
Fighting the Assassins
Edit
By 1506, the Crows had managed to become an infamous mercenary group, characterized as agile and as masters of small arms. They were known for wearing dark talon-coated cloaks and were pictured with crow themed hoods.
Around that time, the Crows tried to kidnap an ally of the Italian Assassins, Leonardo da Vinci, but they were stopped by the same Assassin from Monteriggioni, known as Lo Sparviero. After their failure, Demetrio sent a letter calling for help to a member of the Assassins, Niccolò Machiavelli and told them that he was plotting to kill Cesare, however, Cesare realized of this and arranged his execution, but was saved by Lo Sparviero before he could be executed.
Some time later, the Crows had took over the Colosseum, where they were receiving the last shipment of Corvix Blades. However, the Assassins realized of this and sent Lo Sparviero to discover what they were up to. Matteo Favero, Sirus' son and a Master Crow, was killed at the top of the Colosseum by the Assassin and the Crows were forced to move out when more Assassins invaded the camp. There, the Assassins captured Sirus, who claimed to be only a merchant forced to work with the Crows and that he hated Cesare, thus joining Machiavelli as an ally.
Reference
Edit