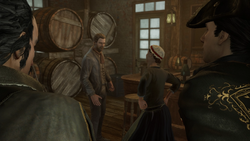 Cornelius Douglass was the innkeeper of the Green Dragon Tavern in Boston alongside his cousin Catherine Kerr after the death of his uncle William Douglass in 1752.
He and Catherine were engaged in an argument when Haytham Kenway and Charles Lee arrived on 8 July 1754 to find lodgings.
Reference
Edit
Ad blocker interference detected!
Wikia is a free-to-use site that makes money from advertising. We have a modified experience for viewers using ad blockers

Wikia is not accessible if you've made further modifications. Remove the custom ad blocker rule(s) and the page will load as expected.