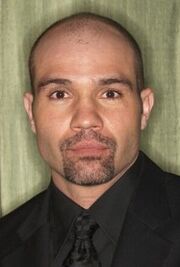 Conrad Pla (born 24 October 1966) is a Canadian actor as well as a former pro kickboxer. He was born in Madrid, but came to Canada at the age of three. He has appeared in various TV series, including The Expanse, The Line, Covert Affairs and ReGenesis, as well as movies like and The Chronicles of Riddick: Dead Man Stalking, The Factory and Casino Jack.
In the Assassin's Creed series, Pla portrayed Diego Vázquez and Laureano de Torres y Ayala, both Spanish Templars, active in New Orleans and the Caribbean respectively.
Assassin's Creed works
External link
Ad blocker interference detected!
Wikia is a free-to-use site that makes money from advertising. We have a modified experience for viewers using ad blockers

Wikia is not accessible if you've made further modifications. Remove the custom ad blocker rule(s) and the page will load as expected.