"The growth of entrepreneurial classes throughout the world is an asset in the promotion of human rights and individual liberty, and it should be understood and used as such."
―Condoleezza Rice, 2000.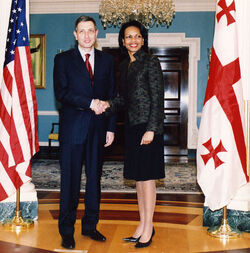 Condoleezza "Condi" Rice (born 14 November 1954) is an American political scientist and diplomat.
Having previously served on the boards of the Chevron Corporation and Hewlett-Packard, Rice was the United States Secretary of State from 2005 to 2009.
As part of the Bush administration, Rice and her fellow cabinet members were manipulated by the Templar company Abstergo Industries, via the latter utilizing the administration's loose regulation of the private sector to gain more influence.
Reference
Ad blocker interference detected!
Wikia is a free-to-use site that makes money from advertising. We have a modified experience for viewers using ad blockers

Wikia is not accessible if you've made further modifications. Remove the custom ad blocker rule(s) and the page will load as expected.