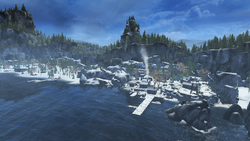 Coeur-de-l'hiver referred to a stretch of taiga landscape, located in the north of the River Valley in New York, and the accompanying settlement that was built upon it.
The native Iroquois had once lived in the region, but later abandoned it; traces of their culture were left behind in the form of cave paintings that depicted the legend of the Sky Woman. By the mid-18th century, the French had constructed a moderately-sized outpost in the area, featuring a general store, harbormaster and tavern. However, during the Seven Years' War, it was captured by the Assassin-turned-Templar Shay Cormac in the name of the British.
Trivia
Coeur-de-l'hiver is French for "heart of winter" or, more figuratively, the "depths of winter", referring to the region's cold climate.
Reference
Ad blocker interference detected!
Wikia is a free-to-use site that makes money from advertising. We have a modified experience for viewers using ad blockers

Wikia is not accessible if you've made further modifications. Remove the custom ad blocker rule(s) and the page will load as expected.