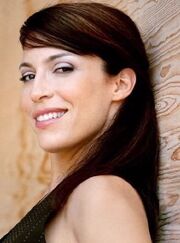 Claudia Ferri (born in Montréal, Québec, Canada) is a Canadian actress. She has appeared in TV shows such as Highlander, 36 Hours to Die, After Amy, and Naked Josh. She has also appeared in films such as 40 is the new 20, Dead Awake, and Killing Time.
In the Assassin's Creed series, Ferri provides the voice of Paola and her face to Maria Auditore in Assassin's Creed II as well as portraying her in Assassin's Creed: Lineage.
Assassin's Creed worksEdit
Assassin's Creed II (2009) – Paola, Maria Auditore
Assassin's Creed: Lineage (2009) - Maria Auditore
External links
Edit
Ad blocker interference detected!
Wikia is a free-to-use site that makes money from advertising. We have a modified experience for viewers using ad blockers

Wikia is not accessible if you've made further modifications. Remove the custom ad blocker rule(s) and the page will load as expected.