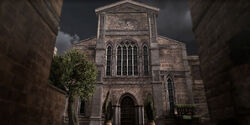 The Church of the Twelve Holy Apostles (Italian: Santi Dodici Apostoli) is an ancient minor basilica located in Rome dedicated to the Apostles.
Classical era
Edit
This church was built by Pope Pelagius I to celebrate Narses victory over the Ostrogoths. However, it suffered severe damage from the great earthquake in 1348. t was later restored by Pope Stephen VI in the 9th century. It was restored in 1417 by Pope Martin V and later again by Pope Clement XI.
Renaissance
Edit
In 1348, the church was severely damaged by an earthquake, and had to be abandoned. It was again restored in 1417 by Pope Martin V, whose family, the Colonnas, owned the surrounding area. The church was considered almost as the family chapel of the Colonna family, but in 1474 was made a parish church in the care of the Franciscan Conventuals. The façade was rebuilt in at the end of the 15th century by Baccio Pontelli. The church was rededicated to all the Apostles in the 16th century.
Reference
Edit