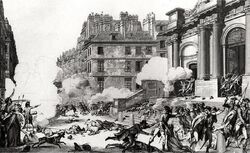 The Church of Saint-Roch (French: Église Saint-Roch) is a church located in the 1st arrondissement of Paris.
The Saint-Roch serves as the final resting place of three notable Enlightenment thinkers, Denis Diderot, the Baron d'Holbach and Marie Thérèse Rodet Geoffrin, as well as the prolific landscape architect André Le Nôtre, who designed the park of the Palace of Versailles, the Champs-Élysées and the gardens of the Château de Saint-Germain-en-Laye.
In 1763, the Marquis de Sade was married with Renée-Pélagie Cordier de Launay inside the Saint-Roch. During the French Revolution, the church was often the site of violent events and shootings which damaged its facade, such the 13 Vendémiaire insurrection of 1795, when rebelling royalist forces were crushed by Napoleon Bonaparte.
Reference
Edit