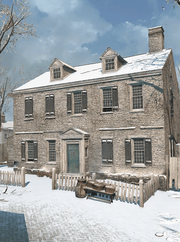 The Church Residence was a large house located in Boston.
A prominent local merchant, Robert Calef, originally built the two-story house in 1707. Later, Benjamin Church bought the house from his heirs to use as a Boston residence. With his practice just a few blocks away, the house was an ideal location for Church.
In 1754, Haytham Kenway and Charles Lee visited the house to recruit Benjamin Church to their cause. When no one opened the door, Charles kicked it down, only to find the house ransacked and Church missing. After that, they continued their search throughout the city.
Reference
Edit
Ad blocker interference detected!
Wikia is a free-to-use site that makes money from advertising. We have a modified experience for viewers using ad blockers

Wikia is not accessible if you've made further modifications. Remove the custom ad blocker rule(s) and the page will load as expected.