Here we seek to open the minds of men.


This article is a stub and is in need of expansion. You can help the Assassin's Creed Wiki by expanding it.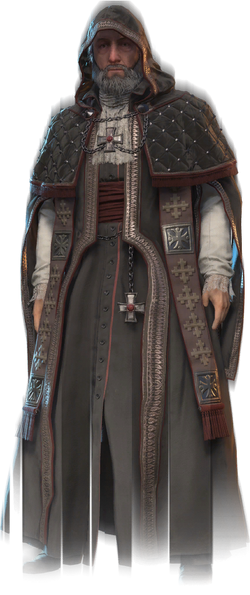 Chrétien Lafrenière (1730 – 31 March 1791) was a member of the Parisian Rite of the Templar Order, active during the French Revolution. An advisor and a staunch supporter of Grand Master François de la Serre, he tried to prevent his murder by François-Thomas Germain and later resisted Germain's takeover of the Order.
Biography
Lafrenière was born as the third son of a rich spice importer in 1730, and was destined to become a priest. He studied at the College of Sorbonne and entered the seminary school in 1750. However, Lafrenière was forced to leave the seminary and take over the family business when his father and brothers died in a shipwreck off the coast of Mauritius.
Lafrenière spent most of his income joining and founding various religious groups and secret societies. Around this time, he became a member of the Templar Order, serving as an advisor to Grand Master François de la Serre.
By the French Revolution, Lafrenière was living in hiding, presumably from his creditors. Unknowingly to the Assassin Arno Dorian, who searched for those responsible for François de la Serre's murder, Lafrenière was an ally of de la Serre's daughter, Élise. After being manipulated by Germain, Arno assassinated Lafrenière in the Holy Innocents' Cemetery in Les Halles, during a meeting between his faction of the conservatives and the Templars from other European countries, while trying to gain support in order to oppose Germain and his plans.
Trivia
"Chrétien" is a French variant of the Latin name "Christian".
Gallery
Reference
Ad blocker interference detected!
Wikia is a free-to-use site that makes money from advertising. We have a modified experience for viewers using ad blockers

Wikia is not accessible if you've made further modifications. Remove the custom ad blocker rule(s) and the page will load as expected.