Here we seek to open the minds of men.


This article is a stub and is in need of expansion. You can help the Assassin's Creed Wiki by expanding it.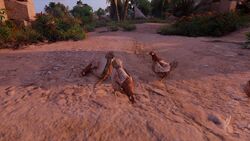 The chicken (Gallus gallus domesticus) is a subspecies of the red junglefowl (Gallus gallus) domesticated by humans. Among the most widespread and common of domesticated animals worldwide, it has been a staple of the human diet for millennia.
As such, during the 1st century BCE, many chickens were kept by Egyptians living in the rural countryside, where they were used as a source of food and feathers.[1]
Appearances
Reference