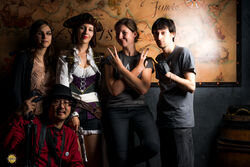 Charlotte Dubois was a Community Developer at Ubisoft Annecy who monitored the multiplayer aspect of the Assassin's Creed series, more specifically, Assassin's Creed III, and communicated with fans through various social media sites. In December 2013, she left the position, which was subsequently filled by Ariadne Macgillivray.
Before having joined the Ubisoft development team with the release of Assassin's Creed III, Dubois worked on Star Wars: The Old Republic for Bioware and Electronic Arts.
Games credited
Edit
Star Wars: The Old Republic (2011) - Bioware / Electronic Arts
Assassin's Creed III (2012) - Ubisoft
Assassin's Creed IV: Black Flag (2013) - Ubisoft
External links
Edit
Ad blocker interference detected!
Wikia is a free-to-use site that makes money from advertising. We have a modified experience for viewers using ad blockers

Wikia is not accessible if you've made further modifications. Remove the custom ad blocker rule(s) and the page will load as expected.