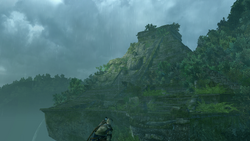 Cerros is a former Mayan settlement located on a peninsula in northern Belize, bordering the Caribbean Sea.
In 1774, the Assassin Ratonhnhaké:ton visited Cerros. There, he followed clues which he had acquired from a sailor nicknamed Peg Leg to the rumored treasure of William Kidd.
After navigating through the island's ruins, he was able to obtain Captain Kidd's Sawtooth Cutlass.
Reference
Edit