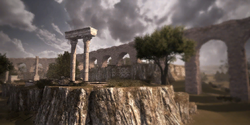 The Caelian Hill (Latin: Collis Caelius, Italian: Celio), is one of the Seven Hills of Rome. According to a tradition recounted by Titus Livy, the hill received its name from Caelius Vibenna, either because he established a settlement there or because his friend Servius Tullius wished to honor him after his death.
In Republican-era Rome the Caelian Hill was a fashionable residential district and the site of residences of the wealthy. Archaeological work under the Baths of Caracalla have uncovered the remains of lavish villas complete with murals and mosaics. The Caelian is also the site of the Basilica of Santi Giovanni e Paolo and the ancient basilica of Santo Stefano Rotondo, known for its centralized, circular plan.
Reference
Edit
Ad blocker interference detected!
Wikia is a free-to-use site that makes money from advertising. We have a modified experience for viewers using ad blockers

Wikia is not accessible if you've made further modifications. Remove the custom ad blocker rule(s) and the page will load as expected.