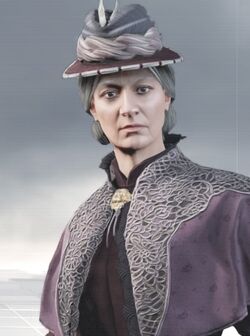 Catherine Glynne Gladstone (6 January 1812 – 14 June 1900) was the wife of British Prime Minister William Ewart Gladstone from 1839 to his death.
Biography
Edit
Due to her father's death when she was three, Catherine and her siblings Mary and Stephen were raised by their mother. The sisters grew extremely close and eventually married on the same day at the same venue. When Mary passed away in 1857, Catherine took Mary's children as her own.
She met William Gladstone through her brother in 1834 and eventually got married in 1839. However, Catherine was unfaithful to her husband. The Assassin Jacob Frye took advantage of this by pretending to be a lover of hers in order to steal an invitation to a party at Buckingham Palace. The couple had eight children together and their relationship eventually ended with Gladstone's death in 1898.
Reference
Edit
Ad blocker interference detected!
Wikia is a free-to-use site that makes money from advertising. We have a modified experience for viewers using ad blockers

Wikia is not accessible if you've made further modifications. Remove the custom ad blocker rule(s) and the page will load as expected.