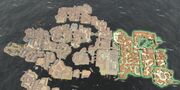 The Castello District was a district in Venice located to the east of the Palazzo Ducale. The largest district of Venice, activity in the district was centered around the Arsenale di Venezia, which housed an abundance of soldiers.
Landmarks
Edit
Assassination targets
Edit
Silvio Barbarigo Il Rosso: Member of the Supreme Tribunal of Venice.
Dante Moro: Personal bodyguard of Silvio and Marco Barbarigo.
Reference
Edit
Ad blocker interference detected!
Wikia is a free-to-use site that makes money from advertising. We have a modified experience for viewers using ad blockers

Wikia is not accessible if you've made further modifications. Remove the custom ad blocker rule(s) and the page will load as expected.