Ad blocker interference detected!
Wikia is a free-to-use site that makes money from advertising. We have a modified experience for viewers using ad blockers

Wikia is not accessible if you've made further modifications. Remove the custom ad blocker rule(s) and the page will load as expected.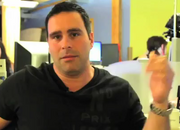 Carl Caldareri is an International Brand Manager at Ubisoft, making him responsible for many of the publisher's important and well-known franchises. He has also worked as a Senior International Product Manager for Ubisoft, as well as a Product Manager for two other companies.
Games credited
Edit
Tom Clancy's Rainbow Six: Vegas (2006) - Ubisoft
Open Season (2006) - Ubisoft
TMNT (2007) - Ubisoft
Surf's Up (2007) - Ubisoft
Tom Clancy's Rainbow Six: Vegas 2 (2008) - Ubisoft
Prince of Persia: The Forgotten Sands (2010) - Ubisoft
External links
Edit