Caribbean Sea
Talk

6
3,879pages on
this wiki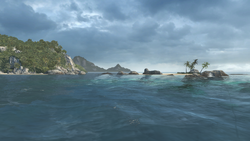 The Caribbean Sea is a sea surrounded by a tropical archipelago, which is part of the Atlantic Ocean. While it borders Central America and Mexico, it was notably a scene of naval warfare during the American Revolution.
Whilst acting as the captain of the Aquila, the Assassin Ratonhnhaké:ton sailed this sea in several times.
During the early 18th century, the Assassin Edward Kenway sailed around the regions of the Caribbean Sea on the Jackdaw.
In 1773, the Aquila scuttled the Windermere, which carried a mysterious Templar package, and the Leviathan, which had been boarded by an important Templar emissary.
In 1776, the Aquila scouted and secured a patrol route, destroying several British privateers. She also responded the distress call from the Independence. Finally, the Aquila sunk the British privateering vessel, the Somerset. In this year, the Aquila also escorted La Belladonna to America, keeping her safe from the Templar forces.
In 1777, the Aquila sunk the Sea Wolves, an infamous fleet sailing the Caribbean Sea. She also destroyed the Greyhound and the Orpheus along with their respective fleets.
In 1778, the Caribbean Sea formed the battleground for the Aquila and the Randolph, the latter of which was eventually destroyed.
Ratonhnhaké:ton also sailed to Cerros, a Maya archaeological island located off the Eastern coast of Belize in the Caribbean Sea, to find the treasure of William Kidd.
Reference
Edit