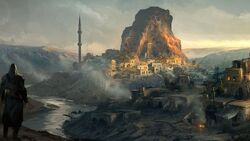 Cappadocia is a region in Central Anatolia, Turkey. It is home to many large rock formations, as well as underground cities such as Derinkuyu.
During the early 16th century, one of its underground cities, Derinkuyu, was controlled by the Byzantine Templars as the headquarters for their operations in the Ottoman Empire. Many poor and struggling Byzantines took refuge in Cappadocia after the fall of Constantinople at the hands of the Ottoman Empire.
Reference
Edit
Ad blocker interference detected!
Wikia is a free-to-use site that makes money from advertising. We have a modified experience for viewers using ad blockers

Wikia is not accessible if you've made further modifications. Remove the custom ad blocker rule(s) and the page will load as expected.