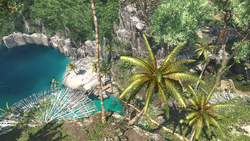 Cape Bonavista is a cove on the western shore of Cuba, located in the Caribbean.
In 1715, a naval battle between the pirate ship, the Jacobite, and the Royal Navy frigate, HMS Intrigue, occurred within reach of the cape, with both ships being destroyed in the process and leaving Edward Kenway and Duncan Walpole as the only survivors. After finding themselves on the cape, Walpole tried to convince Kenway to take him to Havana. When Kenway attempted to haggle the price of passage, Walpole attempted to shoot him before fleeing into the jungle. After a lengthy chase, Kenway finally caught up with Walpole, and killed him after a brief duel. 
Soon after, Edward spied the merchant schooner, the Revenge, being commandeered by British soldiers. Edward eliminated the soldiers and rescued the ship's owner, Stede Bonnet, securing his means of departure from the bay.
Reference
Edit
Ad blocker interference detected!
Wikia is a free-to-use site that makes money from advertising. We have a modified experience for viewers using ad blockers

Wikia is not accessible if you've made further modifications. Remove the custom ad blocker rule(s) and the page will load as expected.