"Come on then, Camille, there's no hope for it now. We must show them that we are not defeated."
―Georges Danton to Camille Desmoulins at their execution, 1794.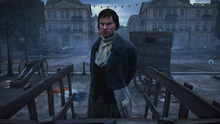 Lucie Simplice Camille Benoît Desmoulins (2 March 1760 – 5 April 1794) was a radical journalist and politician who played a prominent role in the French Revolution. He was a close childhood friend of Maximilien de Robespierre and a devoted ally of Georges Danton, both of whom were greatly influential figures amidst the chaotic period of the revolution. Desmoulins was executed alongside Georges Danton, Marie-Jean Hérault, and most of the other names on Danton's letters on 5 April 1794.
Reference
Ad blocker interference detected!
Wikia is a free-to-use site that makes money from advertising. We have a modified experience for viewers using ad blockers

Wikia is not accessible if you've made further modifications. Remove the custom ad blocker rule(s) and the page will load as expected.