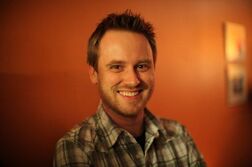 Cameron Stewart is a Canadian comic book artist who has worked for DC, Marvel, and Dark Horse Comics. He and Karl Kerschl wrote and drew Assassin's Creed: The Fall and The Chain, and they collaborated with Brenden Fletcher on the follow-up Brahman. Stewart has obtained many merits and awards for his work with other graphic novels and comics, such as the Eisner Award, the Shuster Award, the Eagle Award and the Harvey Award.
External links
Edit
Ad blocker interference detected!
Wikia is a free-to-use site that makes money from advertising. We have a modified experience for viewers using ad blockers

Wikia is not accessible if you've made further modifications. Remove the custom ad blocker rule(s) and the page will load as expected.