He who increaseth knowledge, increaseth sorrow.


This article contains spoilers, meaning it has information and facts concerning recent or upcoming releases from the Assassin's Creed series. If you do not want to know about these events, it is recommended to read on with caution, or not at all.

This template should be removed from the article 5 January 2019.
"They had these tools, these powerful machines, that could predict possible futures. Not what was going to happen, but wha-what could happen... probabilities. And... well, they spent a lot of energy trying to decide what was the most likely scenario for the future. Theirs and ours."
―Desmond Miles attempting to explain First Civilzation calculations.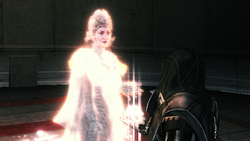 Minerva's calculations made the First Civilization proficient in the studies of alternate, future, timelines. From within the Nexus, Jupiter, Juno and Minerva worked to influence several individuals amongst humanity in the future to prevent the recurrence of a solar flare from devastating the planet after seeing one coming in their own near future.
Notable instances
Trivia
Darby McDevitt has stated that "Calculations" is the in-house term for parallel universes in the series, and added that Clay Kaczmarek went insane because he saw too many possible futures, in addition to the Bleeding Effect.[8]
Appearances
References